Since the outbreak of COVID-19 homeworking has become the norm for many millions of people. While homeworking you are entitled to include part of the running costs of your home in your business accounts, resulting in tax savings. Below are some valuable tips to work out how much you can claim.
1. What is an 'allowable expense'?
By law, an expense is allowable as a deduction only if it is incurred 'wholly and exclusively' for business purposes. It does not have to be billed separately nor does the part of your home have to be set aside permanently for business. For example, you can claim for allowable expenses for a room used as your office during work hours, but it must not be used for other purposes during that time.
2. Won't my allowable expenses be similar to other businesses similar to mine?
Not necessarily. People organise their businesses differently, so there is no fixed proportion of costs allowable for particular types of business. That said, the amount you seek to deduct as an allowable expense is expected to be similar to someone running a similar type of business in similar circumstances.
3. What factors are considered when apportioning an expense?
Area – how much of your home is used for business purposes? Usage – how much is consumed (e.g., where there is a metered/measurable supply such as electricity, gas or water). Time – how long is it used for business purposes.
4. Are heating, lighting and power costs allowable?
Where used wholly and exclusively by your business, yes, a proportion of the amount you pay is allowable. Obviously, that proportion will be determined by how much power your business consumes in your home. Some businesses use far more than others. A proportion of water charges are also allowable.
5. Are telephone and broadband costs allowable?
If used wholly and exclusively for business, yes. If used partially for business, a suitable proportion is allowable. An itemised bill will help when it comes to working out the cost of business calls made. Some of the monthly charges you pay to telephone / broadband providers is also allowable.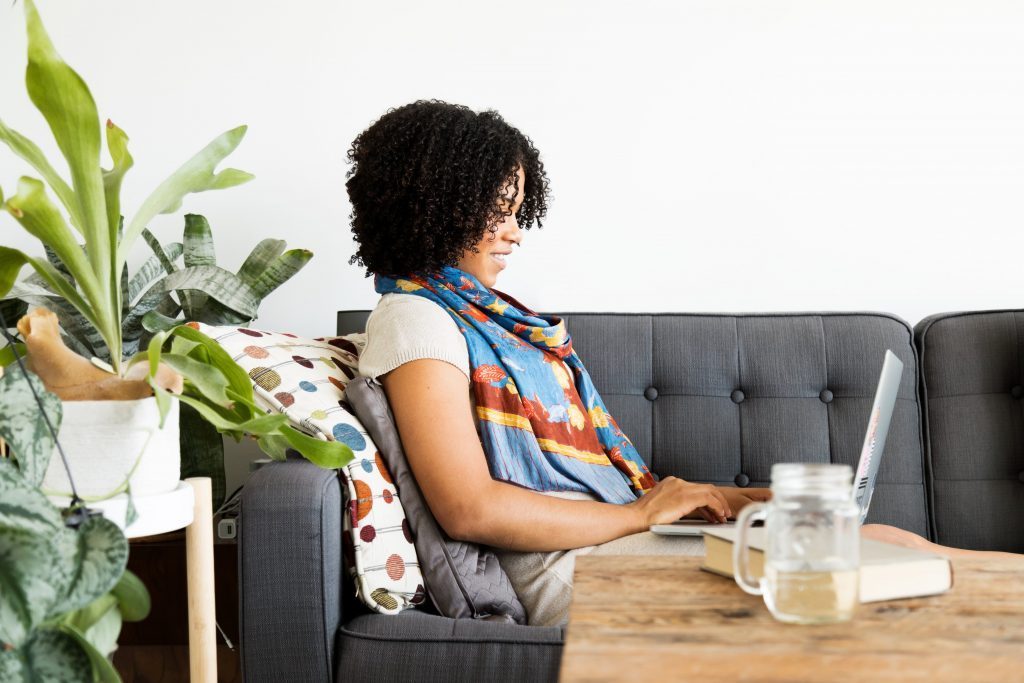 6. Can I claim insurance costs?
If you have separate business cover, this is allowed in full, but no part of your household policy is allowed in that case. If you do not have separate business cover, a suitable proportion of your domestic insurance is allowable.
7. Can I claim a portion of my council tax?
An appropriate proportion of your council tax bill is allowable, if part of your home is used exclusively for business some or all of the time.
8. Is mortgage interest allowable?
If part of your home is used solely for business some or all of the time, a proportion of the mortgage interest you pay is allowable. Repayments of capital are not allowable.
9. What if I rent the property? Can I claim a proportion of my rent?
Part of the rent you pay to a landlord is an allowable expense if part of your house/flat is used solely for business purposes for a proportion of the time you work. A sole trader cannot charge a separate rent to their business because you cannot rent a property to yourself.
10. Are repair and maintenance costs allowable?
Yes, if you operate your business from your home some of the cost of general household repairs and maintenance is allowable. That might include redecoration of the exterior of the building or roof repairs. If a room is used solely for business, redecoration costs are wholly allowable.
11. Can I claim for money spent improving my home?
If you mean having an extension built or fitting a new kitchen, as examples, no, neither is an allowable expense.
12. What if my business operates mostly away from my home?
You can still claim deductions for allowable expenses generated when part of your home is used solely for business. A home-based office used for administration purposes is a common example.
13. Where can I get more information on home expenses?
You can get advice on allowable expenses if you are self-employed (including expenses incurred if you use your home for business such as premises, utilities, telephone and internet expenses) from the HM Revenue & Customs website. Alternatively, you can call HMRC's self-assessment helpline on 0300 200 3310.
Speak to your accountant or tax adviser to help you understand the essentials and claim all the expenses you are entitled to.
You have done the hard work. The customer is happy. You can rest easy. Afraid not!
Now it's time to get paid. How easy is it? It should be simple but how often have you delivered great work and not been paid on time?
Follow these simple steps, make your life easier and keep your bank balance healthy.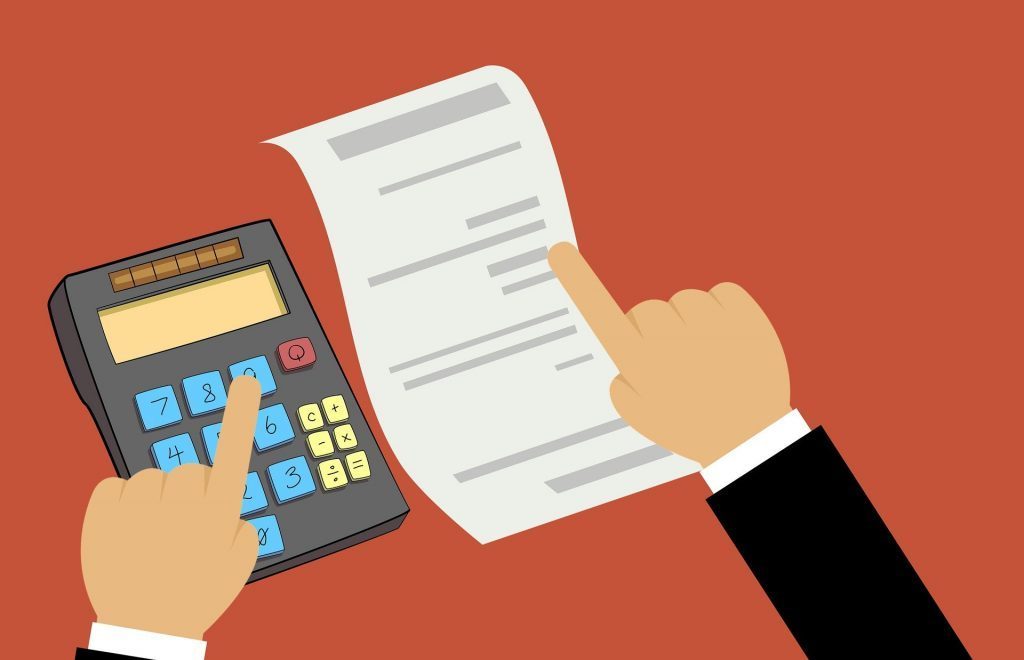 Get Your Paperwork Signed Off Quickly
It's so so important to get ALL paperwork approved by the client before you submit your invoice. Always include any client approved documentation with the invoice.
Some examples are:
Timesheet
Delivery Note
Expense Receipts
Third party documentation
Purchase Order
If you don't you run the risk of the invoice being returned, or even worse put to the bottom of the "Queries" tray by the Accounts Payable department. Agree with the customer, in writing, what is required as backup and ensure this is provided for every single invoice you submit.
Invoice Prep
One way is to use an invoice template. You will find loads of templates online in excel or word format. Personally, I prefer to use excel as it enables easy summation of line items and sub-totals.
A more effective way to generate your invoices is using accounting or bookkeeping software. Invoices are easily generated. They are recorded in the sales ledger and debtors account, and automatically sent to the customer by email. You have real-time data and instant access to your debtors' account. Remember the backup though!
Top Tips
If you have a Purchase Order number, make sure it's shown on the invoice. No PO will likely mean No Payment.
Don't Forget to State the Invoice Due Date. This might be upon receipt of your invoice or within 30 days. Whatever you agree in the contract state those terms on the invoice.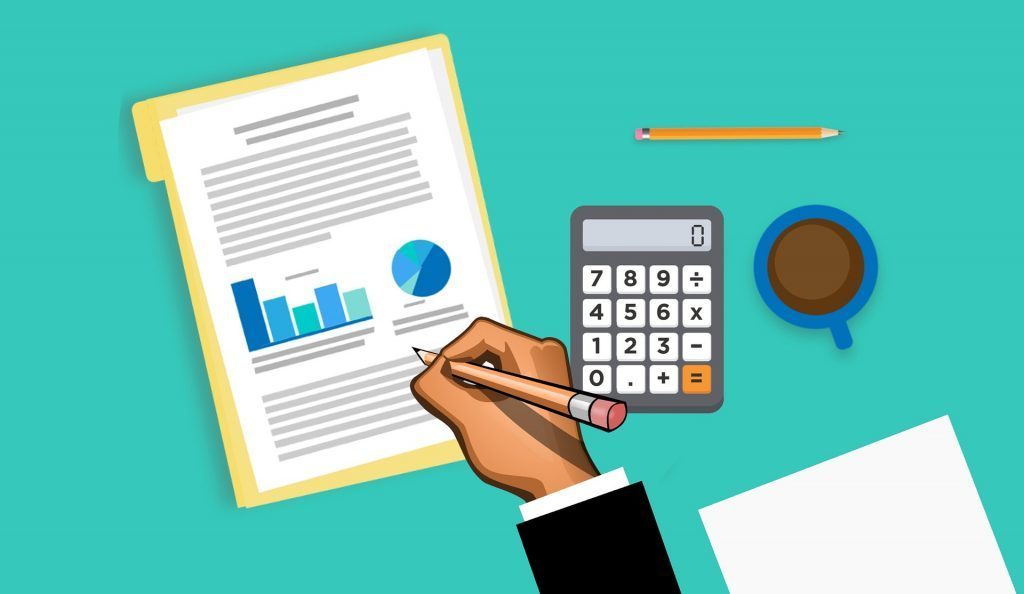 Keeping It Legal
HMRC require certain details to be shown on every invoice you generate. Follow the guidance and stay legal!
A unique invoice ID number
Your company name, address, and contact information
The company name and address of the customer you are invoicing
A clear description of what you are charging for
A supply date (i.e. the date the goods/services were provided)
An invoice date
A breakdown of the amount being charged to the client
The VAT amount if applicable
The total amount
Sole traders also need to include:
You name and any business name being used
An address where any legal documents can be delivered to you
Limited Companies must include the full company name as it appears on your certificate of incorporation.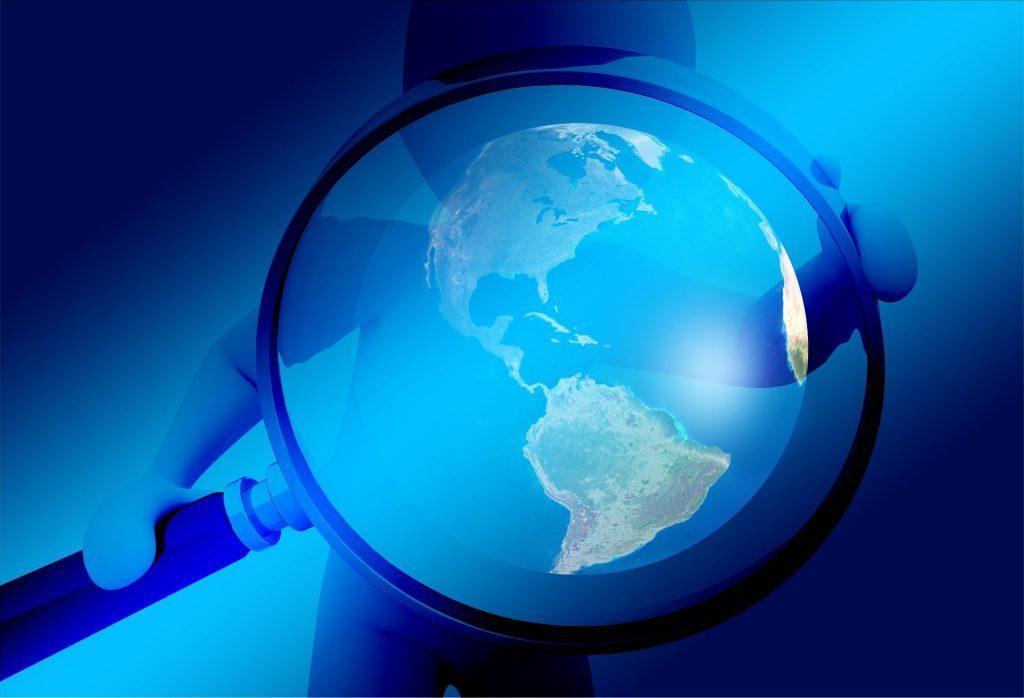 Include The Right Information
The information you include on the invoice will depend on what you are charging for and the customer requirements. It may be a simple one-line invoice for monthly services or three pages of line items to cover all manner of sales. Include relevant but concise information on the invoice.
Ensure the content is easy to follow and the format is clear and tidy. No one wants to waste time reviewing an invoice that is difficult to understand. Remember you want paid on time and without hassle!
When Should You Send Your Invoice?
This one is obvious – when the work is done! Don't wait ten days….or twenty days!
Think of your cashflow. Get the invoice out and the money in.
Consider requesting milestone payments or payment in advance if the job is a big one and likely to stretch your own cash-flow.
Mistakes To Avoid
You will come across difficult customer in business. They may just be difficult individuals or perhaps their systems and processes are not as good as yours! It all adds to potential issues you need to aware of.
Here are some common mistakes you can easily avoid:
Make sure you know who you should send the invoice to. Do not send your invoice to the wrong person.
Double check that your invoice adds up properly. Multiple line items can lead to summation errors. And taxes such as VAT can lead to miscalculations. Check, check and check again!
Your text and descriptions should be clear and understandable. If they are vague you are giving your client room for manoeuvre. Remember the key is getting paid on time.
The Follow Up & Getting Paid
If it is a new customer you are working with, give them a call a few days after you've submitted the invoice. Ask politely that the invoice has been received.
If the invoice has 30-day payment terms, email the customer a couple of weeks later to check on the invoice status. Ask whether the invoice has been approved and a payment date.
You will normally have your own suppliers to pay. Fair-minded customers will appreciate cashflow is important for your business too. Once payment is received send the customer a brief thank you email. We all like to be flattered. Being thanked for paying on time will improve the long-term relationship.
It can be hard work chasing payment. It is a waste of time and resources, and often a source of tension and stress. By following these steps and avoiding the common mistakes you stand an excellent chance of being paid on time.
You will improve your cash flow, reduce your stress, and have access to additional funds to improve your business. Sounds like a plan to me!
Are you seeking immediate and long term business support?
Is your existing accountant providing the correct information for you to make the right choices for your business?
To help Business Owners move forward we are delighted to launch the NKY Consulting Business Recovery Programme.
As a Business Owner you wish to:
▪    Achieve your goals
▪    Build and realise value in your business
▪ Gain lifestyle improvements
▪ Deal with challenges as they arise
▪    Create personal wealth
The programme has been developed to provide businesses and their owners with support, direction and solutions in these most challenging of times.
How We Work With You
We kick off with a free personal discovery meeting to review your business and maximise your cash flow.
We will send you a summary report identifying the key financial and business opportunities available.
Together we decide what is most urgent, important and relevant to your business.
We prepare a next steps action plan that puts you back in control and on the road to planning your future business success.
Seven key steps that support the transition from:
Survival > Recovery > Rebuild > Growth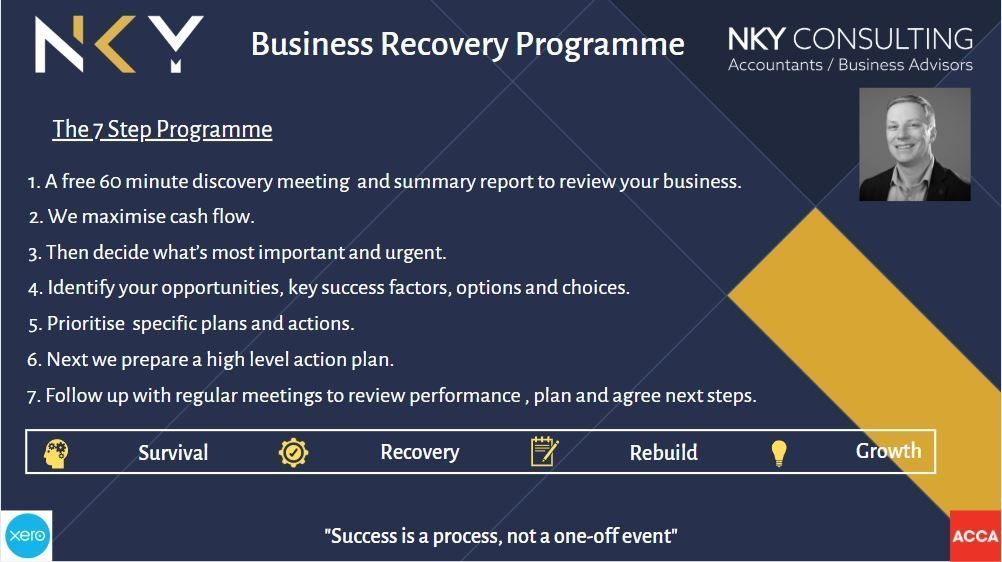 The programme operates in a structured and understandable manner, enabling your business to implement immediate and effective business tools to get back on track to recovery, rebuild and growth.
Don't stick your head in the sand, plan a brighter future for you and your business.
Contact us today for your initial discovery meeting.
Outsourcing parts of your business is not a new way of working. It's been around for many years. You may call upon legal advice when required, or perhaps your IT department is run virtually by a third party. All arrangements that work perfectly well if managed and controlled effectively. The progression to cloud-based services makes the Finance Function ideal for being managed virtually.
The Benefits of Investing in a Virtual Finance Function
Access to SPECIALIST ADVICE and KNOWLEDGE across a wide range of areas

Business Strategy & Advice

Cloud Accounting Software

Latest Business Practices and Government Regulations
PEACE OF MIND that your finance function is being taken care of, allowing you to focus on running your business.
Expert ADVICE on latest government regulations, software and reporting tools that can help your business flourish.
When owning a business RISK MANAGEMENT is key. Every business has to pay taxes, file annual accounts and run payroll. Get it right first time by recruiting EXPERTISE in these areas. You have immediate access to the specialists you need.
Reduce TIME & RESOURCES that are dedicated to finance duties. FOCUS your time on your core business. Leave the Finance Function to the experts in this field.
Agree a distinct package that is tailored to meet your company requirements > FLEXIBILITY & SCALABILITY. You only pay for your own specific and unique needs. You can increase or decrease resources easily as operations dictate.
Access to REAL-TIME management and financial INFORMATION enabling informed and effective business decisions being made in a timely manner.
Costs are generally higher for companies with internal Finance Functions versus those who outsource. When done correctly, outsourcing, almost always DECREASES OVERHEAD COSTS.
Conclusion
As businesses emerge from lockdown it's expected that more will be persuaded by the advantages of utilising a Virtual Finance Function.  As highlighted above the benefits are clear and tangible.  If you are considering a Virtual Finance Function to positively impact your business please get in touch for an initial discovery call.
Has your business prepared a full re-forecast in these challenging times? If the answer is NO, then now is the time to do it. Revenue, Operating costs, Overheads and Cashflow must be reviewed and re-forecast. No easy task but it's key for any successful business, especially in these times of extreme change.
Many businesses will be encountering uncertainties at present due to:
Activity down
Government grants and loans received
Cashflow volatility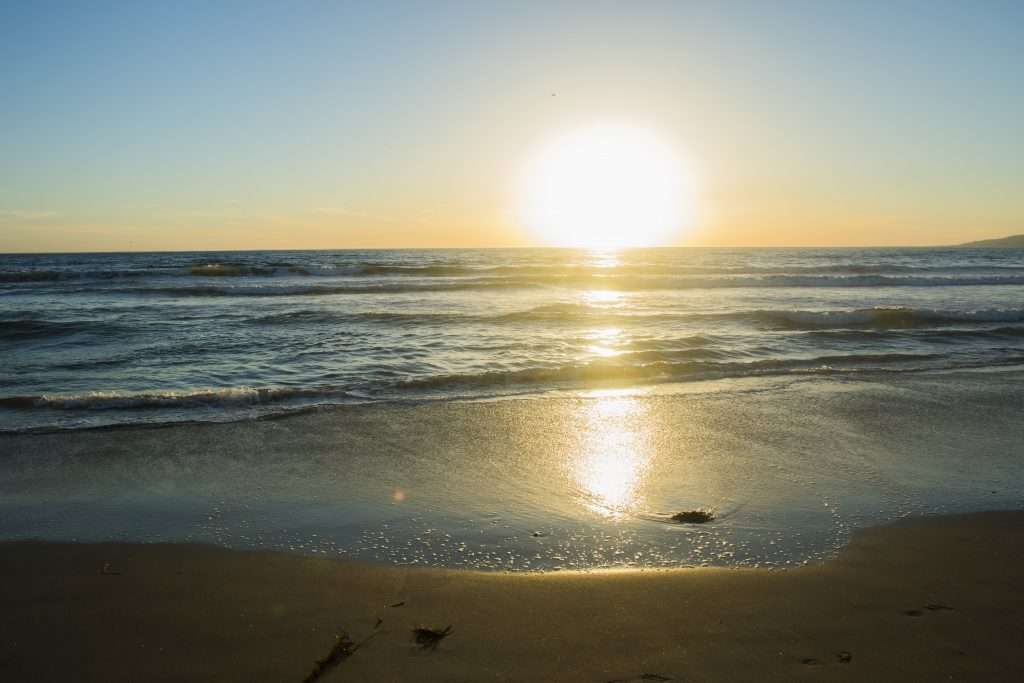 Business owners are often confused by complicated management accounts and accounting jargon. They want presentations where the information and content are easily understandable.
Information presented in the right format is a real game changer in terms of analysing business performance and aiding the decision-making process.
The data table shows Budgeted Monthly Sales versus Actual / Forecast. Not very exciting is it!

Will this grab the attention of the business owner? I doubt it!
When this data is translated into a chart it becomes far more effective and powerful.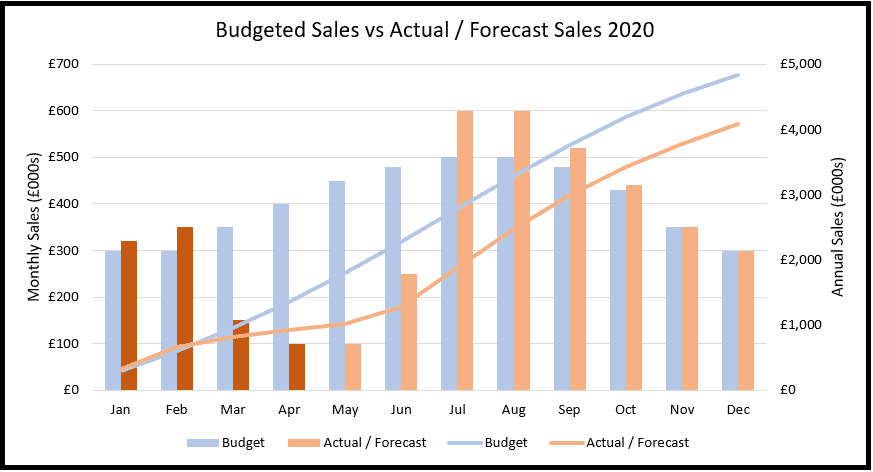 We can immediately see the budgeted and actual / forecast sales month by month; the reduction in sales in Q2 due to the impact of COVID-19, then the forecast upturn through Q3.
Annual sales are forecast to be £1M less than budgeted which should raise a number of follow up questions.
Are there departments within the business that are struggling more than others?
Can the cost base be reduced to offset the decrease in sales?
What impact will the drop in sales have on the Cashflow forecast?
Your accountant should be answering these questions and providing this level of insight on a monthly basis.
Below is a Waterfall chart tracking budgeted vs forecast overheads for 2020.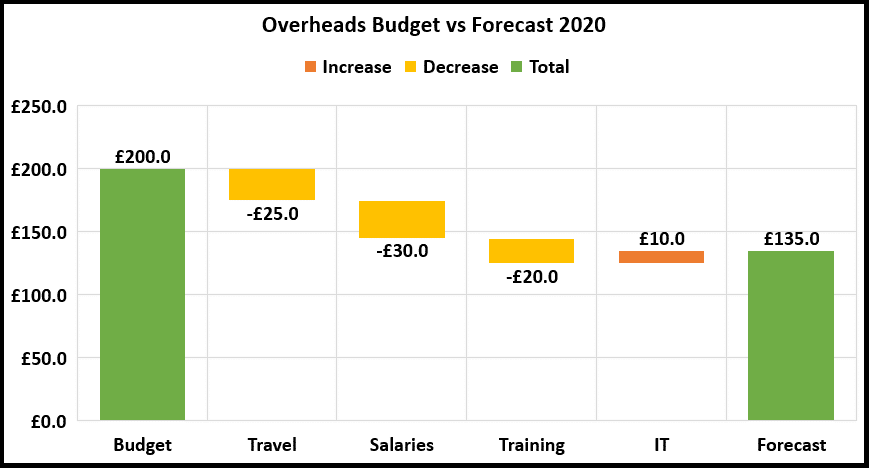 It's far more effective to view the movements graphically. A list of numbers or data table just don't carry the same insight or effectiveness. The waterfall chart is ideal for visualising:
The starting value > Budget
The positive and negative changes expected > Overhead cost categories
The resulting end value > Forecast
Final Thoughts:
Monthly re-forecasting is critical for all businesses.
Charts and graphs are great ways of presenting data and explaining the story.
Make sure your accountant provides this information on a monthly basis. If they aren't, as a business owner, you should be asking why not……or finding an accountant that does!
It is highly recommended that your business has access to a Qualified Accountant. Like any specialist service a Qualified Accountant provides insight and adds value to your business by:
Managing your cash flow effectively
Ensuring debtors and creditors are reviewed on a regular basis
Advising of changes in legislation, reporting requirements and technological developments
Providing advice on a suitable structure for your business
Submitting documentation to HMRC, ensuring your business meets the deadlines with accurate numbers
Every business does not need a full time accountant. However it's critical that your business works with an accountant that understands your business and industry, and provides you with SMART Management information.
SMART >> Specific, Measurable, Achievable, Relevant, Timely
At NKY Consulting, we have over 20 years' experience in the oil and gas sector; our specialism is working in Industry, and utilising this experience to assist the clients we work with.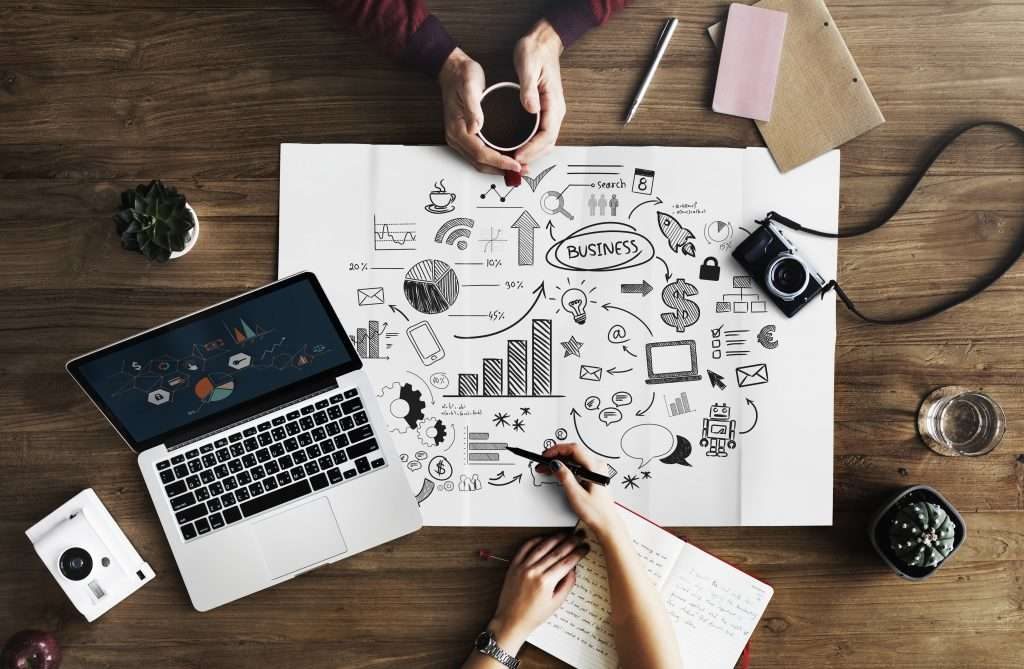 In the UK there is no requirement for someone who calls themselves an 'accountant' to have special training or experience. They may have no qualifications or basic competence to do the job. Any individual can register with a professional accounting body, but that doesn't mean they are a Qualified Accountant.
To reduce the risk to your business use the services of a Qualified Accountant. Check the accountant's accreditation, ensure they have professional indemnity insurance, a practicing certificate, anti-money laundering supervision, and ask for recommendations from your network. Arrange to meet the accountant to get an understanding of their experience and personal qualities; probe them with questions.
Neil Yeoman from NKY Consulting has FCCA status. He is a Qualified Accountant with a practicing certificate from The Association of Chartered Certified Accountants (ACCA). Another accreditation in Scotland is The Institute of Chartered Accountants of Scotland (ICAS). Both carry that badge of integrity.
Members of professional bodies must comply with an ethical code of conduct and benefit from support systems including continued professional development, ongoing regulation and information, technical advice as well as useful networks. If something goes wrong, there is recourse for the client via the professional body. You don't have that protection if you employ an unqualified accountant.
To conclude, utilise the services of a qualified accountant and experienced business professional. NKY Consulting fulfil these obligations allowing you to rest easier as a business owner.
Cash flow management is essential for every business.
It doesn't need to teeter on the edge every month. Here are 5 easy but fundamental fixes.
Prepare cash flow budgets / forecasts on a regular basis. You'd be surprised how many businesses don't. Then fire-fight when in a sticky position. I'd recommend preparing weekly, monthly and yearly forecasts but this should be tweaked to your business needs.
Review your cash flow data using accurate, real-time information. I'd recommend Xero. You'll be able to send bank feeds directly to Xero and reconcile from there. Automation > Efficiency > Improved Management Data
Prepare and issue invoices straight away. Get the basics right. Include the correct backup documentation. I can't emphasise how important this one is.
Speak to your customers and suppliers before invoices are due. Create and manage those good relationships! Understanding can work both ways when it comes to cash flow.
Cut costs and your cash will go further. Review every aspect of your business. Do you need to pay for an item outright? Or can you pay by monthly direct debit and ease cash flow? Are there costs in your business that can be reduced or removed completely? An immediate improvement to your cash flow and profitability.
If your business needs help in any of these areas please contact us.